Yes, most of the time i shop for the perfect dress the last minute. So last night, i was talking to my cousins about how i hate the mall here since there's barely any cute dresses and the only place i can find a cute dress is Forever21 but that is risky cus i know how every girl around here loves to shop there.. i would be afraid to be caught wearing the same dress as somebody else. Had that happen to any of you? It never happened to me but i would imagine it would be very awkward lol So my cousin says ohhh yeah i just purchase a dress at Forever21, how does the dress your going back for look like? I'm like it's black on the bottom and top is white with abstract print. She was like omg that sounds like the one i bought. So i showed her the dress on the site and she's like yup that's what i bought. Bummerrr... so i couldn't go back and buy the dress!
So anyways, the good news! I went back to the mall today in search of another dress. I went in every store there is, practically looked at every dress and had no luck. I went into forever21 again and was thinking you know what? I'm determined to just buy a dress, so sick of looking around. So i picked out about 4 dresses to try on until all of a sudden they took out new shipment of clothes and there was this super cute vintage looking dress they just put out. I took it right away and went straight to the fitting room. Tried it on and didn't even have to try the other dresses on. I bought it and left to go find heels! It was sooo frustrating! I looked for a long ass while and came up with nothing. So i told my friend about the situation and she suggested i check out payless because she can find some cute stuff there. I was like thinking, hell no i would not find anything there.. Wrong!!! I saw these orange heels that was the exact shade of orange with the print of my dress. For only 10 bucks!!! I'm a lucky bitch!!! LOL
U know your lazy when you take pics using your phone..lol quality sucks but better then nothing.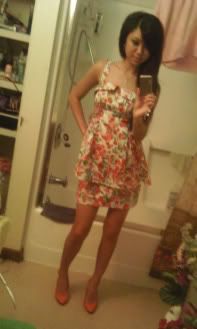 I will post up pictures from the engagement tomorrow and you'll see better pics!! Can't wait to do my hair and makeup and see the final look lol... Also, i will be sure to take plenty of pictures!!